balsamic roasted brussels sprouts
When I was a kid, I had to eat everything on my plate before I could get up from the dining table. My mom would start cleaning the table and washing the dinner dishes in the kitchen and my dad would head into the living room to watch television. I, meanwhile, would sit quietly at the table, staring at a plate of Brussels sprouts or stewed tomatoes or cooked carrots, and wonder if I had time to sneak over to the screened window, open the latch, and throw my vegetables out without my parents noticing.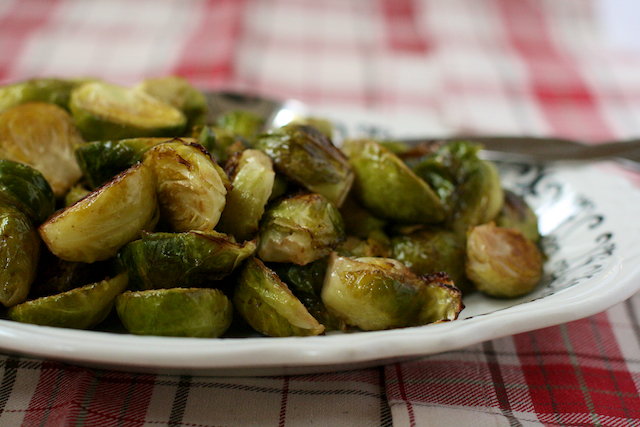 I developed the talent for swallowing vegetables nearly whole. In fact, I could swallow a serving of Brussels sprouts, one sprout at a time, without chewing once. Stewed tomatoes were easier to swallow whole. They slid down easy.
Why did I despise those vegetables? One explanation is that the 1970s and 1980s were an era of boiling food to oblivion and bitter mush. Also, our vegetables tended to come from cans. And then boiled. Another big reason I hated those vegetables is because I was told I HAD to eat them. I HAD to like them. It was required. Rules of the house.
As my husband – and my parents – will attest, I can be quite stubborn. Being told what to do is one of my pet peeves. I refused to like those vegetables partly because of taste, but maybe a lot due to stubbornness.
I am happy to tell you that Brussels sprouts and I have made up and are now best friends. I seriously can't get enough of them.  I'm guessing there are a lot of you out there who think you don't like Brussels sprouts. I would hazard a guess that you've never had them prepared correctly. And maybe you, too, are stubborn.
Often I will sauté Brussels sprouts with some olive oil or bacon fat. Another favorite way is to roast the sprouts with a bit of olive oil, balsamic vinegar, and kosher salt. With a slight sweetness from the caramelized balsamic and a firm yet tender texture, these Brussels sprouts are my new love affair.
And yes, I even chew them now. They are THAT good.
Cooked carrots? Still hate 'em.
Yield: 3-4 side dish servings.
Roasted Balsamic Brussels Sprouts
Ingredients:
1 to 1 1/4 pounds Brussels sprouts
2 tablespoons extra virgin olive oil
1/2 tablespoon balsamic vinegar
Kosher salt
Directions:
Preheat oven to 400°F. Remove tough outer leaves of the Brussels sprouts, rinse well, cut off the stem end. Slice in half vertically (through the stem end).
Toss sprouts with olive oil and balsamic vinegar in a bowl. Pour onto a sheet pan lined with aluminum foil. Sprinkle sprouts generously with 2 to 3 pinches of kosher salt. Roast for about 20 minutes, until sprouts have begun to caramelize on the edges.
Note: These can be made up to 8 hours in advance. Cover and refrigerate, then warm in a 300°F oven for 10-15 minutes prior to serving.