comparison stole my joy, and a recipe: chocolate cake with peanut butter frosting
I need you to know that the food I cook is not perfect. Those of you who have shared a meal at my table know this to be true. This post is for the rest of you.
My sauces occasionally stick to the bottom of the pan. I have been known to burn vegetables while roasting them. The Parker House rolls that I serve at Thanksgiving are store-bought, from the frozen section of the grocery, and I can never get them to rise to my satisfaction. I can't flip a fried egg to save my life. Fish fillets looks mangled after I've had my way with them in the sauté pan.
At times, I am paralyzed here, completely unable to share any of my words or photographs or recipes with you, for fear that you will find this out. I went through a pretty nasty spell of this at the end of December.
There is some incredibly beautiful work online, and many of my friends — some whom I've met and shared meals with, and others whom I hope to meet someday — are responsible for creating it. Their words seem to flow effortlessly. Their photography, of food or people or exotic places, is powerful, with just the correct amount of light and shadow, and seemingly flawless. Their recipes make sense and seem to come together intuitively. Their lives appear full and rich…and better, somehow.
Comparison is the thief of joy.
Someone famous probably said that, possibly Theodore Roosevelt, if the Internet is to be trusted. Regardless of who said it, I have found that statement to be 100% true.
In the short, dark days of winter, when melancholy is banging on my door, it's easy to look at those gorgeous sites and hate myself a little more with each click for not being as good as they are. For not creating perfect food, or styling the perfect photographs, or crafting the perfect words.  And recently, I did just that. I let myself get sucked downward, into that spiral of self-deprecating gloom.
It was a miserable period of time. It kept me away from writing here, and that always makes me sad.
Comparison is the thief of joy. Whoever said this knew exactly what he was talking about.
Today, however, I am back at it — I'm here! — and I'm embracing the fact that I am not perfect.
It took effort, but I clawed myself out of that depressing, joyless pit of comparison.  I'm not sure what made the difference. Having the clear outlook of a fresh January and a new year is helpful. My frequent chats with Olga make a huge difference. Or maybe it's that the weather is perking up and the sun is shining for more minutes each day.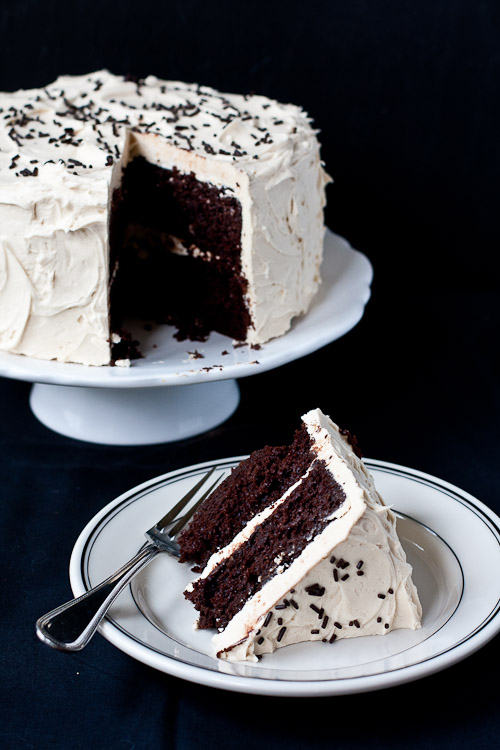 Today, I'm okay with the fact that I am not perfect, nor is the work I create.
Take this chocolate cake with peanut butter frosting as an example – the perfect example, if you will, of an imperfect cake. The layers aren't even, and they sunk in the middle a bit after baking. The sprinkles on the top are not evenly spaced; in fact, there's a little clump of them on one side that bugged me when I photographed the cake. The light was not ideal that day, either, but I am posting these photos anyway. And the cake is probably too rich for some.
But, my family loved it. And I'm here, writing about it. Writing. This is all I need.
Chocolate Cake with Peanut Butter Buttercream Frosting
When I get cravings for chocolate cake, it's a rich, moist one that I crave. This one fits the bill every time. I frosted it with peanut butter buttercream, but you could certainly up the chocolate ante and top it with a decadent chocolate buttercream instead.
Ingredients:
For Cake:
2 ounces semisweet chocolate, chopped
3/4 cup cocoa powder (Dutch process cocoa is preferred)
1 cup boiling water
1-3/4 cup (220 grams) all-purpose flour
2 cups (400 grams) granulated sugar
1-1/2 teaspoons baking soda
1-1/2 teaspoon baking powder
1 teaspoon coarse salt
1 cup sour cream
1/2 cup vegetable oil
2 eggs, room temperature
1-1/2 teaspoons vanilla extract
For Peanut Butter Buttercream Frosting:
4 sticks (440 grams) unsalted butter, softened
4 cups (440 grams) confectioners' sugar
1/8 teaspoon coarse salt
2 tablespoons heavy cream
1 teaspoons vanilla extract
1/2 cup creamy peanut butter (not natural or crunchy)
Directions:
To Prepare Cake:
Preheat oven to 350 degrees. Butter two 8-inch or 9-inch round cake pans, line the bottom of each pan with a round of parchment paper, then butter the parchment. Lightly dust the pans with flour, shaking out the excess. Set aside.
Combine the chopped chocolate and cocoa powder in a small bowl. Add the cup of boiling water and whisk until chocolate is melted and smooth. Set aside.
In a large bowl, whisk together the flour, sugar, baking soda, baking powder, and salt until combined. In another bowl, stir together the sour cream, oil, eggs, and vanilla. Add the liquid ingredients and the melted chocolate to the dry ingredients, and using a hand mixer (or stand mixer), beat on medium speed for 2 minutes.
Pour the batter into the cake pans and bake for 35 to 45 minutes, or until a toothpick or cake tester inserted in the center comes out clean. Cool cakes in their pans on a rack for 30 minutes, then invert them onto the cooling rack to cool to room temperature. Note: Cakes may be wrapped tightly in plastic wrap at this point and refrigerated until ready to use.
To Prepare Frosting:
In the bowl of a stand mixer, beat the butter on medium-high speed until smooth, about 60 seconds. Reduce speed to medium low and slowly add confectioners' sugar. Beat until smooth, about 3 minutes. Meanwhile, in a small bowl, stir together salt, cream, and vanilla; stir until salt is dissolved. Add cream mixture to butter mixture, and mix on medium-high until incorporated. Add in the peanut butter and beat until the frosting is light and fluffy, about 3 minutes.
Frost the Cake:
To frost cakes, place 1 layer on a cake plate. With an offset spatula, spread top with frosting. Place the second layer on top, and spread frosting evenly over top and sides of cake.