louisville, kentucky: lynn's paradise cafe
Over Labor Day weekend, my six-year old daughter, Madeline, and I boarded a flight out of our town's little regional airport and traveled to Louisville, Kentucky. We were headed to Louisville to attend the wedding of my younger cousin, Alyson. This was the second trip Madeline had taken on an airplane – the first was when she was two and a half – so she was very excited.  My daughter was was also thrilled to be attending her first wedding ever, because to her, weddings are all about the Disney fairytale – the flowing white dress, a beautiful princess, a handsome prince,  and lots of dancing.
The wedding was a gorgeous event, held in a beautiful Catholic church in downtown Louisville. Other than the fact that I failed to pack any snacks for my daughter for the long wedding ceremony, and that I mistakenly gave Madeline a heart-shaped bath salt to eat during the service (thinking it was a mint), we had a really lovely time.
But let's talk about food, shall we? This is a food blog, after all.
Saturday morning, before the wedding, a group of us went to a relatively famous Louisville restaurant – Lynn's Paradise Cafe for breakfast. Lynn's Paradise Cafe is an eclectic restaurant, and the shiny sequined sign outside immediately gives that impression.

When you walk in the front door, you're in a retail shop, filled with lamps and greeting cards and books and other knick knacks. It's sort of overwhelming, but fun to browse. My mom and I both had our cameras, and both of us wanted to wander and take photographs rather than sit still at the table. I really wanted to be in the restaurant when it was empty, just so I could look around with no people to distract me – there were so many things hanging from the ceilings and walls to look at.
The lamp you see below is made entirely of used tea bags. Used tea bags! Crazy, right? But you know, I kind of want one now. I think it would look pretty good in my foyer. I'm just not sure I can drink that much tea in time to make one before I have grandchildren of my own, though.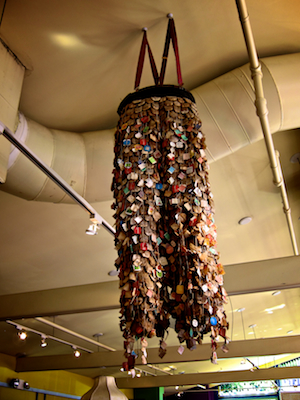 There IS more to this restaurant than just the decor, although the decor takes top billing at first glance. The breakfast portions are huge. I ordered the wild mushroom scramble – eggs scrambled with Portobello and button mushrooms, baby spinach, and white cheddar, and served with a horseradish dill sour cream. For sides, I ordered the cheese grits (because I cannot resist grits) and the buttermilk biscuit.
I will admit that the wild mushroom scramble is not pretty to look at. It is not photogenic. But it was damn tasty. The horseradish dill sour cream had great flavor and really complemented the eggs and mushrooms. The cheese grits were just okay. I love my grits plain, so I don't hold it against the grits. I hold it against the cheddar cheese, which I'm just not a fan of. The buttermilk biscuit? Oh, my. I'm in love with that biscuit. My dad thought it was too messy, and I agree that it was. This is a biscuit that you eat with a fork or break up into pieces, but I'm good with that.
If you ever find yourself in Louisville, Kentucky, you should really go to Lynn's Paradise Cafe. Like all good Kentucky establishments, they serve bourbon, and you can even get a mint julep. Browse for a bit in the shop, look up at the very cool tea bag lamp, eat a buttermilk biscuit. You'll be glad you did.
And wait. What's this? That's not food.
This, my friends, is a cave. I thought I'd end with this photo because this was part of what made my trip  so special. In the photo is my 75 year old dad with my 6 year old daughter. My dad, my mom, my daughter, and I spent a lot of time driving around Louisville, listening to my dad's stories of growing up in Louisville back when he was a kid.
This cave is in Cave Hill Cemetery, where my dad's mother and father are buried. Seeing two of the most special people in my life, my dad and my daughter, checking out this cave – I loved that. It was just a moment in time, but I'm glad I got it on camera.