and then he was four
Four years ago today, my son, Oliver, was born.
Four. Wow.
We had a little party for him on Saturday morning with some of his friends from his preschool. Truthfully, we celebrated Oliver all weekend. That's the great thing about a birthday, right? It always stretches out for a few days, and if you're lucky, maybe even a week.
Oliver's party invitations came from Tiny Prints. I love that store. I buy invitations and holiday cards from them all the time. And, no, they didn't pay me to say that. I wish they did, but they didn't.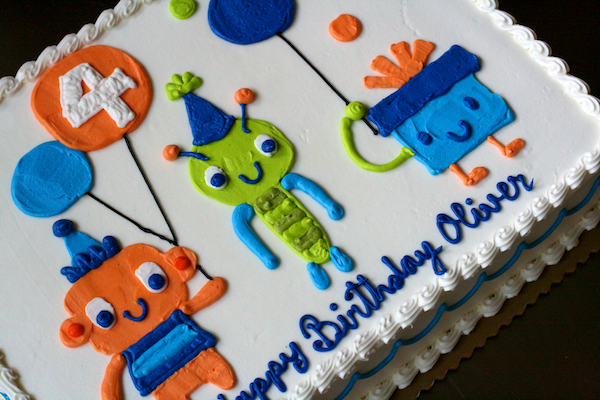 If I were a good mom, I would have baked and decorated the birthday cake myself, staying up all hours of the night until it was just perfect. But, I'm a busy works-full-time-and-has-too-much-stuff-going-on kind of mom, so I didn't. I'm also into maintaining my sanity for as long as possible. So I ordered a cake. And, as usual, the Publix cake decorators did a fantastic job matching the decorations to the invitation.
(And don't tell anyone, but I'm totally addicted to the Publix buttercream frosting, so I'll order a Publix cake any chance I get. Shh..)
Madeline had specifically requested a bouncy house with a slide for her brother's party, and, because he's still in awe of his big sister, Oliver wanted whatever she told him he wanted. We, of course, obeyed. I also set up an activity table with foam stickers and foam craft paper. As it turned out, the stickers were a huge hit among all the kids  – boys and girls alike.
"I had a fun day," Oliver told me before he went to bed Saturday night. My heart warmed. I had a fun day, too.
I've had a fun four years, in fact. The most fun ever.