mom's green jello salad
I'm going to share with you a dirty little family secret. It's the recipe that my family can't resist, the one that's only served at Thanksgiving and Christmas. If you are into eating only unprocessed and organic foods, you should look away now. Seriously, look away.
Are you ready? This is the secret:
My mom's Green Jello Salad. It's not really a salad, as you can plainly see from the photo, but for some reason, these concoctions made with Jello are called Jello salad. When this dish is on the table during our holiday meal, there are rarely leftovers. The kids love it, and they usually fight over who gets the maraschino cherries. The adults love it, even though guests are commonly puzzled by what's exactly in it.
The ingredients are very simple. Lime-flavored gelatin, cottage cheese, Cool Whip, pineapple, and nuts. And don't forget the maraschino cherries for decoration, or you'll have some angry children on your hands.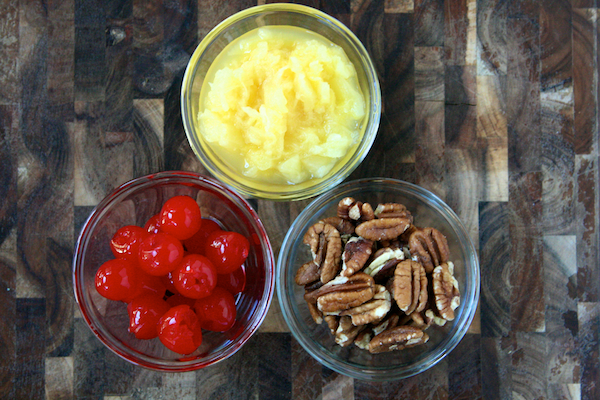 I wish I could say that this dish is so much better when I whip the whipped cream by hand using heavy cream or if I avoid the artificially-sweet crimson cherries on top, but it's really not. This is a side dish – or dessert – that must be made with all of the processed ingredients, exactly as written. I have years and years of taste memories associated with Mom's Green Jello Salad, and those aren't found in any altered version of this recipe.
So, while the other dishes on the table at Christmas will be made from scratch using the best fruits and vegetables I can find in my organic market, there will be this one completely processed, as-opposite-of-organic-as-you-can-get dish on my menu.
And you know what? We'll all go back for seconds.
Ingredients:
3 ounce package lime-flavored Jello gelatin
6 ounces cold pineapple juice
1 cup of Cool Whip
1/2 cup small curd cottage cheese
1/2 cup chopped pecans or walnuts
8 ounces crushed pineapple, drained
6 maraschino cherries (or more, depending on your love for maraschino cherries)
Directions:
Add 1 cup boiling water to gelatin in a bowl; stir 2 minutes or until completely dissolved. Stir in the cold pineapple juice. Refrigerate 2 hours, or until half-set.
Remove from refrigerator and add in the Cool Whip, cottage cheese, chopped nuts, and crushed pineapple. Mix until very well incorporated. Garnish with maraschino cherries and chill for at least one hour before serving.