pam anderson's cassoulet-style italian sausages and white beans
There are two cooks in my house. My husband was the original cook, the one who got us through my four years of medical school and a good portion of my residency. If it weren't for him, I would have survived on bowls of cereal, canned soup, and takeout Chinese. Instead, he kept us well fed with a steady repertoire of grilled chicken dishes, beans, rice, and pasta. He's not a recipe-reading type, and he prefers making meals that are intuitive and require less than 30 minutes.
When I started cooking back in 2003, it took me a while to get comfortable in the kitchen. I'm still quite the novice home cook, but I'm no longer afraid to work with raw meat or tackle a recipe with multiple steps. I'm not afraid of cooking anymore.
Wow. That feels good to say.
While my husband is more of the open-a-box-of-pasta-and-a-jar-of-sauce type of cook, I try to make our meals from scratch, as much as I can. I'm not at Jennie's level, but I'm working on it [and she makes it seem SO easy]. These days, I look for a challenge in the kitchen, a new recipe that I can make my own, food I can play around with. I rarely make the same recipe twice.
Except this one. I've now made this twice in one week.
This Cassoulet-style Italian Sausages and White Beans comes from Pam Anderson's new cookbook, Perfect One-Dish Dinners: All You Need for Easy Get-Togethers. After hearing all of the wonderful things said about her book, and after getting to know Pam and her daughters, Maggy and Sharon, through their blog, Three Many Cooks, I bought it as a gift for myself.
The book is filled with recipes that appeal both to cooks like me, and also to cooks like my husband.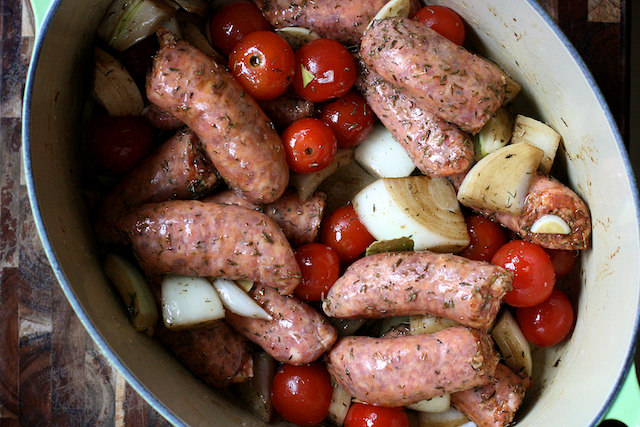 For working parents like my husband and me, this is a great resource. It's filled with many ideas for simple menus filled with great ingredients and robust flavor. Like this recipe.
I served this dinner to my parents this Sunday night. Paired with a simple green salad and slices of crusty baguette for dipping, it was a wonderful Sunday dinner. It took no more than an hour to make, and only ten minutes or so of prep time. A glass of Zinfandel would have paired lovely with it, had I remembered.
One more thing I love about this recipe? It makes people think I'm a much better cook than I really am.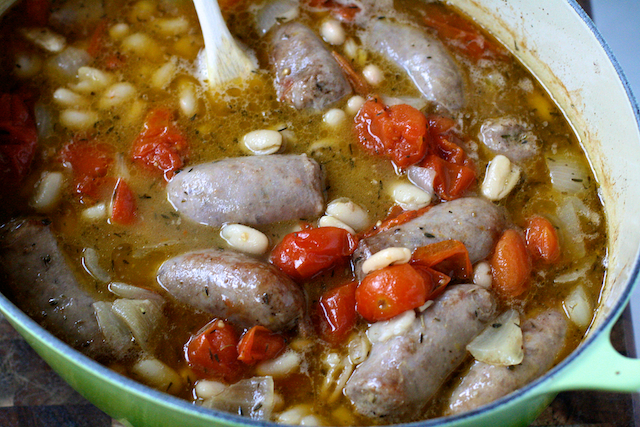 Cassoulet-Style Italian Sausages and White Beans
Special thanks to Pam Anderson for sharing this amazing recipe from her book, Perfect One-Dish Dinners: All You Need for Easy Get-Togethers. I made the recipe almost exactly as it is written, with the exception of a couple of modifications in line with my family's preferences. I decreased the amount of tomatoes to 2 pints, and I added a 4th can of white beans. Serve this with a nice green salad and some crusty bread
Ingredients:
2 1/2 pounds sweet Italian sausage links
3 pints cherry tomatoes
1 medium-large onion, cut into 1 1/2 inch chunks [I used one large Vidalia onion.]
4 large garlic cloves, sliced
3 tablespoons extra-virgin olive oil
1 1/2 tablespoons balsamic vinegar
2 teaspoons dried thyme
3 bay leaves
Salt and freshly ground black pepper
3 cans (about 16 ounces each) cannellini beans, undrained
Directions:
Adjust oven rack to lowest position and heat oven to 425°F.
Mix sausages, tomatoes, onion, garlic, olive oil, vinegar, thyme, bay leaves, and a generous sprinkling of salt and pepper in a large heavy roasting pan or dutch oven. Set pan in oven and roast until sausages are brown and tomatoes have reduced to a thick sauce, about 45 minutes. Remove from oven, stir in beans, and continue to roast until casserole has heated through, about 10 minutes longer. Remove bay leaves and serve.