a good day and tres leches cake
Sometimes a day comes along that is almost perfect. Saturday was that day for me.
It was a day of happy little occurrences sprinkled throughout the morning and afternoon. Picking these wildflowers with my daughter was one of them. When I see pink and purple and white phlox growing on the side of the two-lane country roads between here and my parents' house, I always think of my mother. I have memories of stopping to pick phlox with my mom when I was a kid, our hands sticky with sap from their stems and our bare legs itchy from wading through calf-high weeds to get to them. I felt blessed to share that with my own daughter on Saturday.
Sharing a lunch hour with my mom and my grandmother, my newly-wheelchair bound father, my husband and kids, and my sister – who came down from Chicago to visit for a few days – was another highlight of the day. We sat near the front picture window of this lovely little restaurant and shared plates of fried green tomatoes served with ranch dressing for dipping. My children, who normally refuse tomatoes of all sizes, ate these crispy treats and asked for more. My heart was full.
And then this.
For the last six months or so, Oliver has been asking us to take him to an Eeyore farm. My husband and I were puzzled by how we were going to accomplish this. Do donkey farms exist? We've seen plenty of farms with cows and horses around, but donkeys? We were stumped. We placated him with assurances that yes, of course we could go to an Eeyore farm – knowing full well that we intended to ignore the request from the 4-year-old.
Until Saturday came along.
Driving home on the country roads after lunch, we spotted two donkeys in a pasture off to the left. "Eeyores!" my son yelled, his voice filled with excitement and delight. After a quick u-turn at the entrance of a nearby gated neighborhood, we parked the car in the grass along the edge of the road and walked up to the fence. The donkeys – the Eeyores – came right up to us. Oliver and Maddie petted their soft noses and fed them weeds and grasses plucked from the ground on our side of the fence.
I think I smiled the entire way back home, just thinking of Oliver's happiness at getting to pet and feed Eeyores for the first time ever. I'm never as happy as when my children are.
*   *   *   *   *
I promised myself I would share this recipe with you as soon as I could. I struggled with what dessert to make for Easter on Sunday, and ultimately decided to go with a Tres Leches ("Three Milks") Cake. I discovered this cake when I lived in Miami some years ago, but I'd never made it before.
I learned two things from making the recipe this weekend.
First? Homemade whipped cream is hedonistic bliss on a spoon. I'm not sure I'll ever buy the canned variety or the processed stuff in a tub anymore.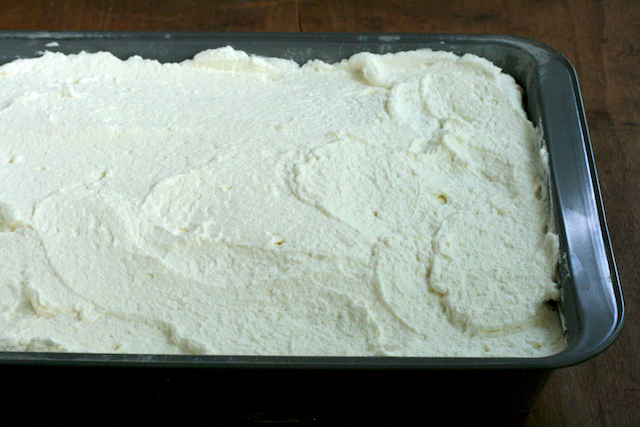 Second? This cake is unbelievably decadent. The sponge cake absorbs the liquid from the three milks, soaking up that sweet creaminess and giving the cake melt-on-your-tongue moistness. Topped with the homemade whipped cream, this cake was insanely delicious.
I think I actually mourned when that last bit of cake from the pan was gone.
Tres Leches Cake
Adapted from this recipe from Alton Brown. Prep time is 45 minutes plus 8-hours of overnight refrigeration time; cook time is 25 minutes. While it may look intimidating, it really is a very simple cake to make. Don't let the recipe overwhelm you. It serves 10-12, but be forewarned - you will want seconds of this cake.
Ingredients:
Ingredients for Cake
vegetable oil for pan
6 3/4 ounces cake flour, plus extra for dusting pan
1 teaspoon baking powder
1/2 teaspoon kosher salt
1/4 teaspoons ground cinnamon
4 ounces unsalted butter, at room temperature
8 ounces sugar
5 large eggs
1 1/2 teaspoons vanilla extract
Ingredients for Glaze
1 (12-ounce) can evaporated milk
1 (14-ounce) can sweetened condensed milk
1 cup (8 ounces) half-and-half
1/2 teaspoon ground cinnamon
Ingredients for Topping:
2 cups (16 ounces) heavy cream
4 ounces granulated sugar
1 teaspoon vanilla extract
Directions:
Preparation of Cake
Preheat oven to 350 degrees F. Lightly oil and dust with flour a 13-by-9-inch metal cake pan and set aside.
In a medium bowl, whisk together the cake flour, baking powder, salt, and 1/4 teaspoon cinnamon.
In the bowl of a stand mixer, using the paddle attachment, beat butter on medium until light and fluffy, about 1 minute. Decrease speed to low and with the mixer still running, gradually add the sugar over 1 minute, stopping to scrape down the sides of the bowl if necessary. Add the eggs, 1 at a time, and mix thoroughly to combine. Add the vanilla extract and mix to combine. Add the flour mixture in 3 batches and mix until just combined. Transfer the batter to the prepared pan and spread evenly. There will appear to be just a little batter for the size of the pan. Bake on the middle rack of the oven for 20-25 minutes, until the cake is lightly golden and a toothpick inserted in the center comes out dry.
Remove the cake pan to a cooling rack and let cool for 30 minutes. Poke the top of the cake all over using the tines of a fork. Allow the cake to cool completely and then prepare the three-milks glaze.
Preparation of Glaze
Whisk together the evaporated milk, sweetened condensed milk, half-and-half, and 1/2 teaspoon ground cinnamon in a 1-quart measuring cup. Once combined, pour the glaze over the cake. Cover the cake with plastic wrap and refrigerate overnight.
Preparation of Topping
Place the heavy cream, sugar, and vanilla into the bowl of a stand mixer. Using the whisk attachment, whisk together on low speed until stiff peaks are formed. Change to medium speed and whisk until thick. Spread the topping over the cake and allow to chill in the refrigerator until ready to serve.