a giveaway: sucré macarons and two books to inspire you
Back in August 2011, I traveled to New Orleans for a food blogging conference. Shortly after arriving at the hotel, I met up with Jamie from Life's a Feast, and we went on an adventure into an area of New Orleans that I was unfamiliar with. We were hunting a bakery  on Magazine Street, Sucré, and specifically, the delicate macarons made by Sucré's executive pastry chef, Tariq Hanna.
Jamie knows all about macarons, and if you search her blog for "macaron", you'll find all sorts of recipes for them. I knew very little about macarons – including how to pronounce the word – until that trip to New Orleans, and to Sucré in particular. I bought an assortment of Sucré macarons that day, planning to take them home to my family. And I did take home some, but not as many as I had intended. Sucré's macarons were almost too pretty to eat. Almost. In my hotel room later that day, I nibbled on one, sampled another,  and I was hooked.
And now you have a chance to try them, too.
Sucré is going to send one of you, the winner of the giveaway, a box of their assorted signature macarons.
I love the idea of one of my readers getting a box of these colorful cookies delivered to their front door. But as I was thinking of doing this giveaway — and you know that giveaways are a rare occurrence around here — I realized I'd like to send something else along with the macarons.
I'd like to inspire a baker out there.
The reward of a chocolate chip cookie fresh out of the oven or a wedge of tangy citrus tart is just a small – but tasty! – part of why I bake. The primary reason I bake is because I am comforted by the process, by the mind-centering rhythm of gathering ingredients, mixing together flour and sugar and eggs, rolling pie dough or pressing a shortbread crust into a tart pan. For 30 minutes or an hour, or hopefully longer, I'm a chemist, creating a multitude of chemical reactions that result in something beautiful, something that makes people smile.
In addition to the macarons from Sucré, the winner of the giveaway will receive (at my expense) these two cookbooks:
I don't own the first of these two books, Gesine Bullock-Prado's Bake It Like You Mean It: Gorgeous Cakes from Inside Out
, but it's on my baking cookbooks wish list. I do have the second of the two, Thomas Keller's and Sebastien Rouxel's Bouchon Bakery
. That cookbook, oversized and glossy, is simply stunning. The photography is gorgeous and the recipes are detail-oriented and easy to follow.
So, to recap — one lucky reader will receive a 15-piece box of assorted signature macarons, courtesy of Sucré, and both of the cookbooks above, Bake It Like You Mean It
and Bouchon Bakery
, courtesy of me. How do you enter? Well, keep reading. And good luck!
~ the giveaway ~
to enter:
It's very simple to enter — no hoops to jump through.  Just leave me a comment below answering this: Why do you bake or cook? What is it that draws you to the kitchen?
the fine print:
I'll close comments on Sunday, March 17, 2013  at 12 noon EST, and I'll randomly select one winner from the comments. Please, only one comment per person, and you must live in the continental United States to win the giveaway. For Sucré's shipping purposes, you must be able to provide a physical address, not just a post office box number.
** 3/17/2013 UPDATE **
We have a winner! According to the random number generator, the lucky person is: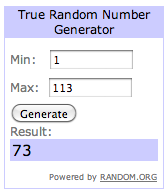 Congratulations, Suzanne W. I'll be getting in touch with you very soon. Happy baking!