welcoming 2011 and saying thank you
I've wracked my brain for the last week trying to come up with a meaningful end-of-2010 or welcome-to-2011 post. I thought about doing a wrap-up of my most popular ten posts for 2010, but I didn't feel it was the right time for that. My blog's anniversary is coming up in February, so I thought I might save that kind of thing for then. I'm much more interested in reading about other's top lists of the past year. [If you want a really great wrap-up of favorite food blog posts of 2010, check out this post on kitchen Mage.]
Last night at our New Year's Eve dinner, I was inspired by one of my very best friends on what to do for today's post. Truthfully, she always inspires me, and I'm so thankful to have her as a friend. Plus, she's going to be a famous novelist one day, and I'm really looking forward to the day when I can say, "I knew her when…"
2010 was the year that I found that the passion for food, food writing, and food photography is embedded deep in my soul. That creativity had to come out, and it did, in the form of this blog. I love being in my kitchen, with my camera nearby at all times, making food for those that I care about most. I love that I can share it here with all of you. And mostly, I love that all of you care to read about it. You, friends, have been my inspiration and a part of my life for the past year.
And I want to thank YOU for that. As a teensy token of my thanks, I want to do a giveaway of one of my favorite cookbooks of this past year. And here they are:
Ad Hoc at Home
by Thomas Keller.
The Flavor Bible
by Karen Page and Andrew Dornenberg.
Gluten-Free Girl and the Chef
by Shauna and Dan Ahern, the amazing couple behind this blog.
Around My French Table
by Dorie Greenspan.
The Essential New York Times Cookbook
by Amanda Hesser, one of the co-founders of Food52.
This giveaway is the least I can do to thank you all for your loyalty and readership over this past year. I am so happy you're with me on this journey, and I plan to make 2011 an even better year for myself and this little blog of mine. Happy New Year!
Here are the details of the giveaway: Please leave me a comment below – just one comment per person, please – telling me which of these books you'd love to own. I'd also love to hear about your favorite cookbooks or food lit books of the past year or of all time, so please share! On Saturday, January 8th, I'll use Random.Org to select one winner from all of the comments. I'm paying for the book, and I'll pay for the shipping — to the USA or Canada only. And again, thank you!
***Update on January 8, 2011***
I loved reading all of these comments. It was a struggle for me not to reply back to some of them, but I didn't want to mess up the comment count by adding my own in there. Again, thank you all for sharing this journey with me.
And, now, for the winner, as chosen by the random number generator: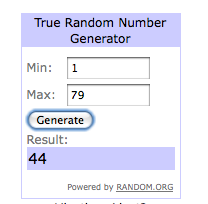 Comment number 44 happens to be this one:
Congratulations, Jackie! I'm thrilled to be sending you the cookbook.