our last days in yellowstone and grand teton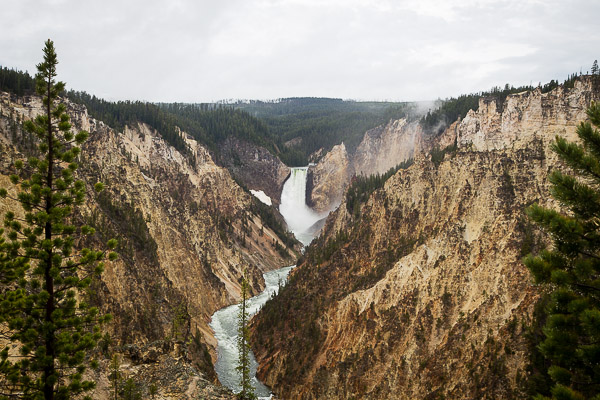 This is the fourth and last post in which I'm sharing our itinerary for our recent trip out to Jackson Hole, Grand Teton National Park, and Yellowstone National Park. The first three posts are here, here, and here – in case you missed them. 
Warning: Photo-heavy post ahead.
* * * * *
It's been over a month since my last post about our summer trip to Grand Teton and Yellowstone National Parks. I've been feeling overwhelmed and anxious this past week – which probably has something to do that tomorrow starts a 15 day stretch of work and 24/7 call. Today seemed like a good day to visit my photos from our trip and to share with you the last couple of days of that vacation. There were lots of powerful moments during those last two days, including spreading my father's ashes at Lupine Meadows. I felt so connected to him in that place, and I can still feel the tug on my heart when I look back at these photos.
Days 7: Yellowstone National Park to Jackson, WY
We left our cabin and checked out of the Lake Lodge Hotel in Yellowstone on that Thursday morning. We had experienced such beautiful weather during the first days of the vacation, but these last two days would prove to be overcast and rainy.
After one more quick drive through the Grand Canyon of Yellowstone – but no hikes due to the rain – we headed to the Mud Volcano area to explore the geothermal features there. The area was filled with gurgling mud pits and steaming ground. And the stench of rotten eggs.
The evidence of the fires in Yellowstone is obvious throughout the park, but it was most obvious on the drive south, from the West Thumb area down to the South Entrance. Naked, scorched trees stood in thick groves. Green grasses and flimsy, young trees pushed up from the earth among the dead pines that littered the ground, creating a beautiful contrast of the old and the new. The landscape was stark, and awed silence seemed to be the only appropriate response.
Until the bull elk was spotted, that is. Then the chaos of halting traffic and tourists climbing out of cars with smart phones, camcorders, and cameras began.
Our drive south to Jackson through the Grand Teton National Park was leisurely, and we revisited many places we'd stopped before. We regretted not spending more nights in the Grand Tetons. Neither Sam nor I were ready to return to civilization, with its traffic lights and street noise and Facebook.
Day 8: Jackson, WY, and Grand Teton National Park
On our last full day in Wyoming, we woke to grey skies and dreary, low hanging clouds. The striking vista of the Teton range was obscured by clouds, and if I hadn't seen it earlier in the week, I almost wouldn't have believed it existed.
Despite the weather, we donned our jackets (mostly rainproof) and our backpacks and headed out to hike to Inspiration Point, a trail off of Jenny Lake. This hike would turn out to be one of our favorite experiences of our trip.
Later that day, after inhaling hotdogs at the Jenny Lake store – who knew hiking could create such ravenous hunger? – we drove over to Lupine Meadows again. From the first moment we saw this meadow, early on in our trip, I knew that Dad needed to be here. The rain cleared and the sun came out just long enough for us to spend some silent moments there. We were the only people in the meadow, and it was just as it needed to be.
Oliver picked a dandelion and laid it on the ground, near a clump of Lupine. "This is for Grandaddy," he said.
As we drove out of the meadow, we passed a car stopped along the side of the road. Because we are smart tourists – quick to catch on to these type of cues – we knew that meant WILDLIFE HAS BEEN SPOTTED.
A gorgeous brown bear meandered through the meadow in our general direction, pausing to eat grasses and leaves along the way. We watched it for twenty minutes, at least, as it wandered aimlessly at first, and then with purpose as it climbed down into a stream, waded through the water, and then climbed out the other side. It disappeared into the tree line, without a look back.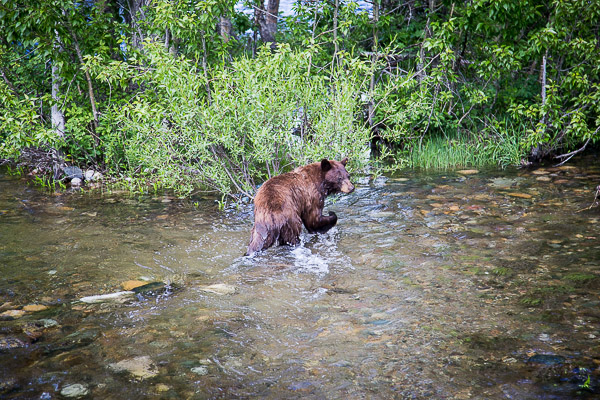 When I think back on that last day in the Grand Tetons, I can't help but get a bit emotional. It was the perfect end to our vacation. This was a vacation I will always remember, and I'm fairly certain my children will, too.
 *   *   *   *   *
For more information on where we stayed and ate, during this final leg of the trip, here are some links: