flagler beach, florida: flagler fish company
While the kids played in the sand and surf at the beach on our recent vacation, I sat in my flimsy little $12 beach chair with my Kindle
. Between finishing up the Stieg Larsson series
and keeping my eye on the kids, I watched shrimping boats in the distance.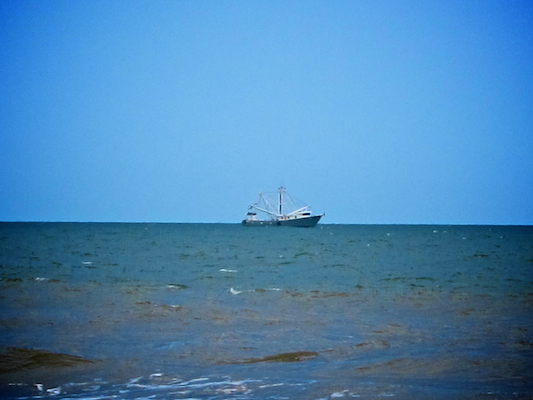 And I started craving shrimp. Imagine that. Luckily, the eastern coast of Florida is a happening spot for seafood restaurants, like the one I wrote about earlier in the week. Some friends had mentioned that we should try the Flagler Fish Company in Flagler Beach, just a 15 minute drive or so from our beach condo. I am so glad that we did. It was such a great place that we actually went back a second time the very next night.
Flagler Fish Company is a combination fish market and restaurant. We were there on a Friday and Saturday night, and it was understandably crowded. The wait was a bit longer on Saturday than Friday, but the young guy in charge of seating guests was fabulous and brought us out some drinks for the kids — and a lovely glass of wine for me and beer for my husband. The drinks, along with some delicious clam dip, made the 30 minute wait much more bearable.
The restaurant offers to cook anything that's in their display cases, and there was a lot of fresh fish to choose from. The prices are very similar to those that we find in our local fish market. Of course, that's not terribly surprising since we live less than two hours from the beach.
I know I've said this before, but I am a huge fan of grits. And shrimp and grits? Well, now you're talking. On the menu at Flagler Fish Company, the shrimp and grits is called "redneck scampi." And, oh my. This was one incredible dish. The grits were nothing fancy – Quaker (I asked) – but they were creamy and had bits of corn and tomatoes blended in. The shrimp were perfectly sauteed.
The second night I ordered one of the other items that caught my eye on their menu – the fish tacos. At $5 each, I ordered one of the "North Side" tacos and one of the "Red Light" tacos. The North Side was filled with tomato, avocado, shredded cabbage, and a spicy chipotle salsa. And, it was indeed spicy. I was thankful for my glass of water. The Red Light taco was milder, with a similar filling but with a mild salsa verde and sour cream instead of the spicy chipotle salsa. The fish was cooked just right in both tacos. And, of course, I ordered a side of grits. Because – have I mentioned this? –  I love grits.
We've officially added Flagler Fish Company to our Favorite Places To Eat At The Beach list. Hmm….it might be time to plan another beach vacation…