st. augustine, florida: salt water cowboys
After spending three nights at Disney World, we packed up our overtired children and headed to the beaches of the eastern coast of Florida. We stayed in a beautiful condo in Palm Coast, just south of St. Augustine. My parents drove over and spent a couple of nights with us, and the first night they were there, we ate at a long-time favorite restaurant of ours, Salt Water Cowboys.
Just outside of St. Augustine, Salt Water Cowboys sits at the dead end of a two lane road, and the restaurant itself juts out over the marsh. The food is always good, but the thing I like most about the place is it's location. It's just stunning, really. And if you happen to go at sunset, you'll never forget the experience.
When we first arrived, my common sense flew out the window and my 21-year old inner self got the better of me. After reading the drink menu, I ordered a Cracker Coolade.
Now, really. What grown-up woman – a mother of two, no less – who professes to be a foodie does that? Seriously? This is the type of establishment where you order a beer. And sweet tea. I'll chalk it up to heat stroke or something, but regardless, I started a trend that night. We all – my parents included – ordered this frighteningly blue drink served in a mason jar with a maraschino cherry poking out the top.
One of the highlights of dinner was the basket of cheesy garlic toast that always starts the meal off.
The house salad is a typical salad, but it's topped with a creamy vinaigrette with a bit of a kick to it. I didn't hear our waiter tell us what type of vinaigrette it was – or perhaps my head was in a fog from the Cracker Coolade – and I forgot to ask, but it was delicious. It was sweet, tart, and had a spicy kick at the end. I was guessing it contained horseradish, but I could be totally off.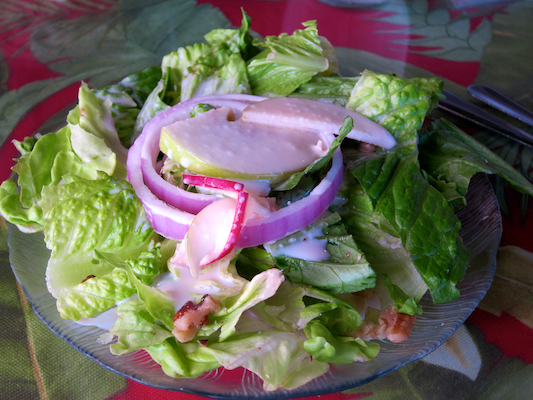 The menu at Salt Water Cowboys is your typical Florida fish camp type menu. It's got just about any fried local fish or shellfish you can imagine, and they serve frog legs and alligator tail too. I've had the gator tail before. And which, when fried, tastes like…well, like anything else fried. I tried to stay on the somewhat healthy side, so I ordered the broiled shrimp stuffed with blue crab and served with a red pepper sauce.
Um, yeah. Nothing healthy about that dish. But darn tasty.
Jane and Michael Stern reviewed Salt Water Cowboys on their Roadfood.com website, and since I am a huge Splendid Table fan and love the roadfood segment the Sterns do on that show, I was tickled to see it there. Salt Water Cowboys is a really unique Florida seafood restaurant, and honestly, it's a toss-up between which shines brighter – the food or the setting.