pimento cheese spread
I blame the crinkly plastic-wrapped slices of shiny, square American cheese that starred in my sandwiches growing up for my dislike of yellow cheeses. Offer me a tray of assorted cheeses (yes, please do), and I'll go for the white cheeses every time. The pale yellow of Parmesan and Swiss cheeses are okay, but not the vibrant orange-yellow of cheddar and its relatives.
With one exception.
Pimento cheese.
Pimento cheese sandwiches were a common lunch item when I was a kid. I had no idea what I was actually eating on those slices of bread. I couldn't fathom what was in that creamy, lumpy orange spread that lived in the small plastic tub in our refrigerator. But I ate it, and I liked it.  Pimento cheese sandwiches were easy, and they were comforting. And now they remind me of my dad.
Pimento cheese is another classic southern comfort food item, and there are lots of variations on a simple theme. Most recipes I've seen include the three most important ingredients — grated cheddar cheese, mayonnaise, and chopped pimientos. Some recipes contain raw onion, and many recipes contain a dash of heat – either with hot sauce or cayenne pepper or the like.
The pimento cheese that I grew up with, the one that brings back memories of childhood, is incredibly creamy, with a hint of sweetness to balance the saltiness of the cheese. You could make this recipe entirely by hand, but I like to use the food processor to get that proper, easily-spreadable texture. A generous slathering of pimento cheese between two slices of fresh white sandwich bread, and you've got a classic, southern sandwich.
Is it lunch time yet?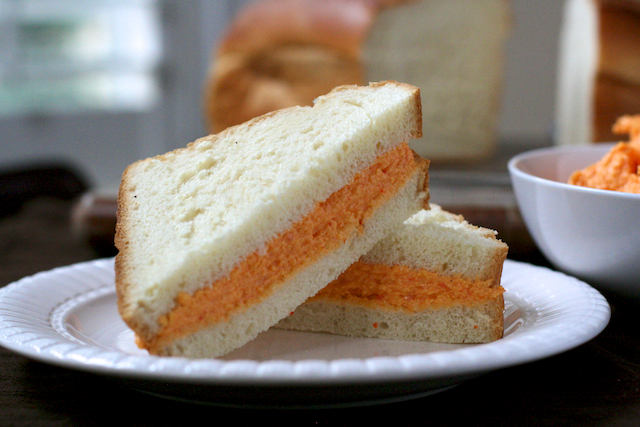 Pimento Cheese Spread
I'm a believer in using plenty of mayonnaise in this pimento cheese. Skimping on the mayo makes the spread too thick for my tastes. Using light mayonnaise will alleviate the may0-guilt, and the flavor doesn't suffer.
Ingredients:
16 ounces sharp cheddar cheese, grated
1 cup light mayonnaise
7 ounces chopped pimientos, drained
1/2 teaspoon salt
1/4 teaspoon sugar
1/8 teaspoon cayenne pepper
Freshly ground pepper
Directions:
In the bowl of a food processor, add grated cheddar cheese, mayonnaise, pimientos, salt, sugar, and cayenne pepper. Process until well-combined. For smoother texture, process for longer. Add freshly ground pepper and salt to taste.