making the best of summer's heat: mint chocolate chip ice cream
Well, hello heat.
Every June, when the temperature climbs here in northern Florida, I'm always surprised. I should not be surprised – I've lived here long enough to know that this is Florida's way. But, it always seems that we should have more of the spring season than we end up having. Instead, spring is over in a flash and we're on to sweltering summer, which fills up the majority of our year. The heat would be more tolerable if it were less humid out. Leaving work at the end of the day earlier this week, the thermometer in my minivan read 101°F. With somewhere between 70 and 80% humidity, it felt as if a sauna door had been left open.
Make that 100 sauna doors.
One bonus of the heat – and summer in general – is that the ice cream maker gets unearthed from the depths of our pantry. Earlier this summer, I made olive oil ice cream, something that I fully intend to make repeatedly in the years to come. Last weekend, I tackled an old favorite of mine – mint chocolate chip ice cream. Since my husband and daughter prefer strawberry ice cream, and my son seems to prefer chocolate, this batch was made with me, and only me, in mind.
Although I did share.
The methodology is very simple. The milks and creams that form the custard base are infused with fresh mint, and then chocolate chips are added to the ice cream near the end of the freezing process. I used five big sprigs of fresh mint and let the warmed milk mixture infuse with flavor for about an hour. The mint ice cream – good enough to enjoy on its own, without any chocolate – was bright and vibrant and heavenly. The addition of semi-sweet miniature chocolate chips added a fantastic chocolate crunch with each spoonful of  creamy goodness.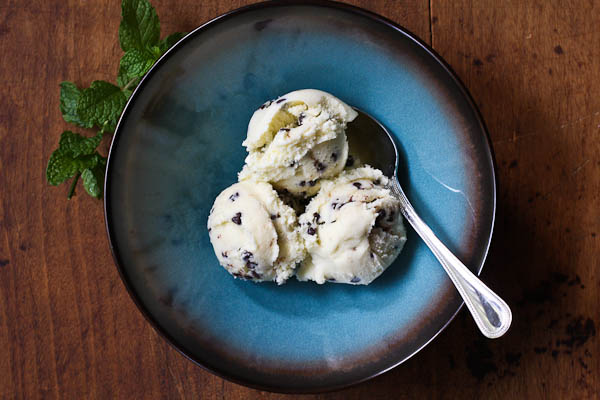 Mint Chocolate Chip Ice Cream
Filled with fresh mint flavor and sweet chocolate chips, this is a refreshing summer ice cream that can be made up to one week in advance.
Ingredients:
2 cups heavy cream
1 cup half-and-half
1 cup whole milk
5 large sprigs of fresh mint
1 1/2 cups sugar
3 large eggs
8 ounces miniature semi-sweet chocolate chips
Directions:
In a large heavy saucepan on medium heat, warm the cream, half-and-half, milk, mint sprigs, and sugar. Bring just to simmering, stirring occasionally, then remove from heat. Let stand for 30 minutes to 1 hour. Strain out the mint leaves.
Return saucepan to burner over medium heat and heat cream until almost simmering, stirring occasionally. In a large bowl, lightly beat eggs. Add hot cream mixture to the eggs in a thin slow stream, whisking continuously. Pour mixture into saucepan and cook over low heat until the the custard coats the back of a spoon (or 170 degrees on a thermometer). Pour custard through a fine mesh sieve into a clean bowl set in an ice bath to cool. Cover the surface of the custard with wax paper and chill in refrigerator overnight.
Following the instructions on an ice-cream maker, freeze custard, in 2 batches if necessary. When there is about 5-10 minutes left in the freezing process, pour in chocolate chips. Transfer ice cream to an air-tight container and place in freezer to harden.