cranberry sauce with satsuma
One recent Sunday afternoon, we headed out on a bike ride through the tree-lined streets of our neighborhood. The trees are one of my favorite things about our neighborhood — Drake Elms, Bradford Pears, magnolias and dogwoods, oak trees and maples.  The leaves seem to have more color to them this year – more oranges and yellows and reds – making our afternoon bike rides all that more beautiful.
We rode past our neighbors' homes and white picket fences, Madeline a little unsteady on her pink bicycle, recently removed of it's training wheels, Oliver struggling to keep up on his little red bike, still with training wheels firmly in place. An older couple who live around the corner from us happened to be out for a walk. They flagged me down as I rode by, almost stepping right into my path. The wife held out her hand to me, offering me, with a smile on her face, an orange fruit about the size of a tennis ball.
"A Satsuma, from our tree in the backyard," she said.
Later, when Oliver and I came home from the ride early – his little legs tired out from trying to keep up with his sister – I peeled the Satsuma over the kitchen sink. The peel came away from the flesh inside easily, leaving only little bits of stringy white pith behind. I removed two sections of the fruit, handed one to Oliver and popped the other in my mouth. The Satusma was sweet and plump with juice, with less tartness than a tangerine, and seedless. We meant to save half of the juicy sections for Maddie and Sam, but the fruit was just too tempting.
And wow. Thanksgiving is tomorrow (!).
I have so much to be thankful for this year. Those beautiful people in the photo above are just a few of the many, but maybe the most important.
My father is coming home from the rehab hospital today. I said my goodbyes last night to the evening shift of nurses and techs and nursing assistants that I've come to know so well over the past year. I am thankful for them, the work that they do, and their patience and understanding with my father.
Of course, I would be perfectly happy never stepping foot in that rehab hospital again.
I'm thankful for the gesture from my neighbor, plucking a Satusma from her tree and giving it to me for no reason at all. I love this neighborhood, and we're blessed to have kind and generous neighbors surrounding us.
That delicious Satsuma gave me an idea for one of our Thanksgiving dishes this year. The cranberry sauce that will be served tomorrow is flavored with Satsuma zest and juice, among other things, and is heavenly. It will be served alongside two turkeys, a smoked ham, mashed potatoes and sweet potatoes, cornbread dressing, Waldorf salad, roasted Brussels sprouts, green bean casserole and squash casserole, and pumpkin and pecan pies. My kitchen will be overflowing with good food tomorrow, and I'll be sharing it with those people who mean the most to me.
Just another little thing to be thankful for.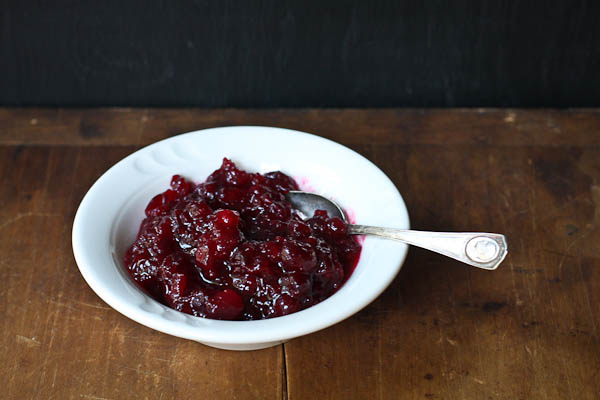 Yield: About 2 cups.
Prep Time: 5 minutes
Cook Time: 15-20 minutes
Cranberry Sauce with Satsuma
If you don't have Satsumas where you live, you can substitute an orange or tangerine. Also, this can be made a few days ahead before you plan to serve it, something that's always a bonus this time of year.
Ingredients:
1 cup granulated sugar
1/2 cup water
12 ounces fresh cranberries
1 teaspoon Satsuma (or orange) zest
2 tablespoons Satsuma (or orange) juice
1/4 teaspoon ground cinnamon
1/8 teaspoon ground cardamom
1/8 teaspoon kosher salt
Directions:
In a heavy-bottomed saucepan, combine sugar and water over high heat and bring to a boil, about 5 minutes. When the sugar is dissolved, add cranberries and remaining ingredients. Stir well and bring to a boil. Once boiling, reduce heat to a simmer and cook, stirring occasionally, for 10-15 minutes, until the mixture has thickened. Allow to cool for about 1 hour, then store in a covered jar or bowl and refrigerate.