our travels and a recipe: creamy buttermilk dressing
We did an amazing thing recently. Some might say crazy instead of amazing. Those people might be right.
On June 23rd, we packed up our kiddos, flew to San Francisco, rented a minivan, and toured parts of northern California. It was an ambitious trip – eight nights and nine days, hours of airplane travel, many more hours on the road, five different hotels, and lots of packing and unpacking. We hiked through the sequoias and over rocky mountain paths in Yellowstone, wandered the beaches along Monterey Bay, and ogled penguins and jellyfish at the Monterey Bay Aquarium. We saw deer, chipmunks, squirrels, sea lions, sea otters, harbor seals, and a lone coyote. We walked the hilly streets of San Francisco, played in the Exploratorium, and visited the sea lions at Pier 39.
And we ate…and ate…and then ate some more.
Much of what we ate looked like this:
We chased all of that food down with cupcakes or ice cream. Or any other sweet treat the children charmed us into buying…because weren't they just so adorable and hard to resist when they asked so kindly? And weren't we on a vacation, where calories and fat content don't count?
After so many days away, and after so many restaurant meals, I missed cooking in my own kitchen. I missed simple, healthy dinners. I never wanted to see chicken fingers or french fries again.
I wanted salads, salads with homemade dressing and fresh ingredients and no fuss.
That first full day home, I did some baking, mostly for the therapeutic, calming effects that the process of baking has on me. I roasted chicken. I boiled eggs, for a salad later in the evening. I washed three loads of laundry, and I sorted mail.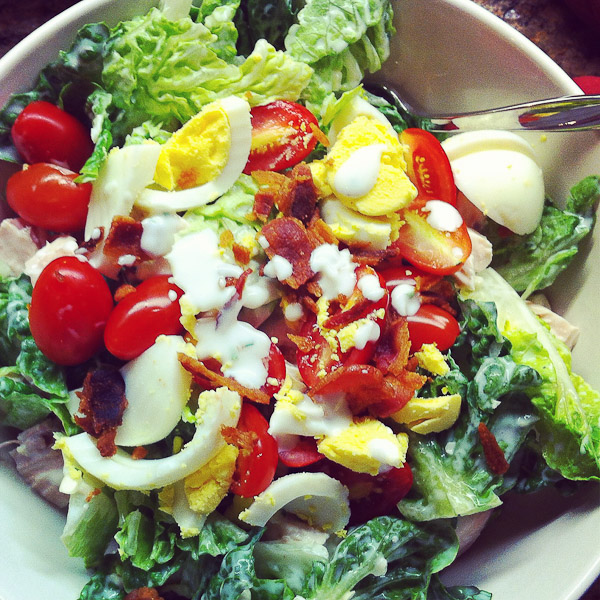 Finally, I prepared a simple buttermilk dressing. This creamy salad dressing, garlicky and with just enough tang, was precisely what our dinner salad  — made with torn Bibb lettuce, fresh cherry tomatoes from the garden, sweet raw summer corn, roasted chicken, a sprinkling of bacon, and a hard boiled egg — needed.
And while that beautiful dinner salad didn't erase the damage from all of the fried crap I put in my body during our travels, it was a definite start in the right direction.
Creamy Buttermilk Salad Dressing
Pair this garlicky and tangy dressing with any green salad. It's quite the match for a wedge of iceberg lettuce, some chopped tomatoes, and bacon crumbles.
Note: I used whole buttermilk in this recipe, but I made up for that by using nonfat greek yogurt and low-fat mayonnaise.
Ingredients:
1 clove garlic, peeled and smashed
1/8 teaspoon coarse salt, plus more if needed
1/4 cup nonfat greek yogurt
1/3 cup mayonnaise (regular or low-fat)
1 tablespoon cider vinegar
2/3 cup well-shaken whole buttermilk
2 tablespoons finely-chopped chives
Freshly ground black pepper
Directions:
On a cutting board, sprinkle the garlic clove with the salt, and mash into a paste using the back of a knife.
In a medium bowl, whisk together the yogurt, mayonnaise, cider vinegar, buttermilk, and garlic paste. Stir in chives. Season to taste with black pepper and additional salt, if necessary.