our summer vacation: banff and glacier national parks
"We love the Tetons and Yellowstone, but Glacier is our favorite national park."
We heard this sentence, or a variation on it, at least two or three times last summer while we were in the Grand Teton and Yellowstone National Parks. I couldn't imagine loving another park even more than I did either Grand Tetons or Yellowstone. I had fallen hard for both places and for different reasons. How could Glacier be even better?
But the sentiment stayed with me, even after we returned home. So I began my research. Within 2 weeks of arriving home from Jackson Hole, I had booked hotel rooms in the Many Glacier Hotel, on the east side of Glacier National Park, for one year later, in July 2015.
As the months went by, my plans for our summer trip evolved, expanded, and solidified. In my research, I learned that one of the major airports near Glacier was in Calgary, in Alberta, Canada. And not terribly far from Calgary was Banff, in the Canadian Rockies. Hmm.
When we finally boarded our Delta flight in Orlando on July 4th, our first destination was Canada. We would fly into Calgary International Airport, drive to Banff, spend the first four nights in Banff and then drive south, back into the United States, to Glacier National Park in Montana. After four nights in and around Glacier, we would head back home to Florida.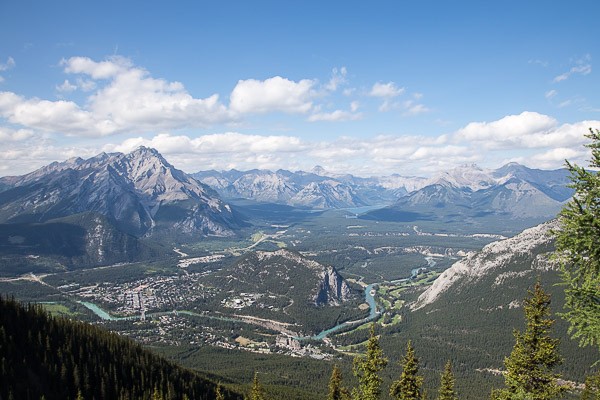 The trip was amazing and not long enough. As it turns out, four nights in Banff is not any where close to enough time. And four nights in Glacier is also not enough time. Looking back on it, I think we had some great appetizer portions of each, but it left me craving the full tasting menu. And dessert. I needed dessert.
This is the itinerary I planned – and which we mostly stuck to. Sam tried to change up some of my itinerary early on and nearly lost an ear as a result. After that, he went along with what I had planned, and I tried to be more flexible and spontaneous. Neither of us achieved 100% success, but perfection is boring, right?
Day 1: Travel day, to Calgary International Airport. Drive to Banff.
Day 2: Explore Moraine Lake and Lake Louise
Day 3: Drive to the Icefield Centre in Jasper, along the Icefields Parkway. Trip to the Athabasca Glacier on an Ice Explorer.
Day 4: Hike the Plain of Six Glaciers trail, to the tea house.
Day 5: Leave Banff and drive south to Montana and Glacier National Park. Stay at Many Glacier Hotel.
Day 6: Explore the eastern side of Glacier.
Day 7: Leave Many Glacier and drive the Going-to-the-Sun Road, exploring along the way. Check into hotel in Whitefish, Montana.
Day 8: Explore the western side of Glacier.
Day 9: Travel day, back to Florida.
Over the next couple of weeks (fingers crossed), I'll share photos and details of parts of our trip. I've just started going through the 650+ photos that I took while on the trip, and I haven't begun to see what ended up on the kids' cameras (or Sam's, for that matter).
We did learn two big lessons from this trip, though, that are important to keep in mind if you're also thinking of a similar itinerary.
First, renting a car in Canada and returning it in the United States makes for a very expensive (and very limited selection) car rental. We rented a car in Calgary, at the airport, and returned it in Montana, just before our flight home. I did this because I specifically wanted to fly into Calgary rather than into Montana. Calgary is closer to Banff and would give us easy access to both Banff and to Glacier. Also, it was cheaper to fly into Calgary and fly home from Montana. Odd, I know, but that's the way it worked out. So, I booked airline tickets and didn't think twice. Only later, when it came time to rent a car did I learn the error of my ways. Whatever money we saved in airline cost was immediately wiped out by the expense of the car rental. Also, the only company we could rent from was Budget, and the only car available for rent was a Chevy Malibu. We did find it entertaining (and only slightly annoying) to have a car that only listed kilometers per hour (and registered the outside temperatures only in degrees Celsius).
Second, to really get a good feel for Banff or Glacier National Park, do one or do the other, but don't do both in one trip. I don't regret anything about our trip, but I do wish I hadn't felt as rushed as I felt. I set an alarm every day of the vacation because I did not want us to miss a single moment. We were up and out of the hotel early in the morning – until the latter portion of the trip when the kids rebelled against me – and we returned back late in the evening, after a late dinner. We exhausted ourselves completely and thoroughly.
At dinner one night, probably halfway through the trip, I started to announce that we were getting up at 6:00 the next morning so that we could have a quick breakfast before going out exploring. Oliver interrupted me. "Wait, wait wait. Mom. Wait," he said. He held one arm out, palm facing me in the universal STOP signal. "Vacation is supposed to be about relaxing, okay?"
He was right. If we'd chosen to do one national park or the other, we could have done each one more thoroughly and still allowed for some down time. As it was, I did very little reading, no knitting at all, and I barely had time to record each day's events in my travel journal. None of us slept enough.
Oh, but it was a good vacation. I look forward to sharing more about it in the posts to come.
*   *   *   *   *
Note: For those of you who, like me, are obsessive about researching and planning vacations, I completely rely on two apps for all of my trip planning. Evernote is my workhorse for keeping ideas, itineraries, snapshots of maps or confirmation numbers, and more. I use TripIt to organize the final trip plans, and it's the home to all reservation information (flights, car rentals, hotels, etc.).