a celebratory cocktail: the châtelaine
Here it is, the Sunday before Christmas. The stockings have been hung by the chimney with care [Well, not really. They're hung by our staircase. We have no chimney.]. I'm almost certain that all of the presents have been bought. Most of them have been wrapped. Christmas dinner plans are in the works, and except for a couple more days of work, I'm ready for this holiday.
I even bought myself a present yesterday – a bottle of St. Germain elderflower liqueur to play with. I heard a podcast about the liqueur earlier this year that piqued my interest in St. Germain. The liqueur is made from fresh elderflowers that grow at the foothills of the French Alps, and they only blossom during a two to three week window in the spring. The St. Germain website has lots of cocktail recipes, and I'm considering making each one of them over the holidays.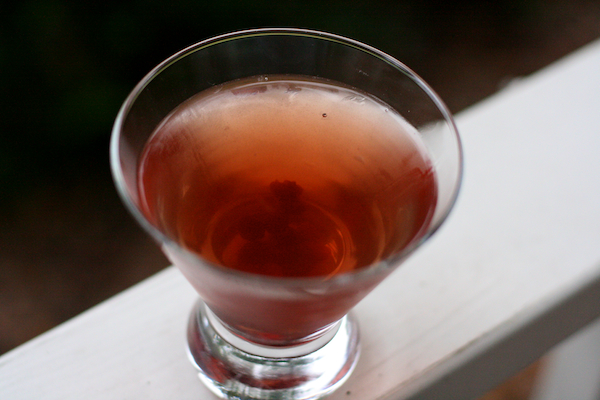 Today, though, to celebrate having all of our Christmas shopping done and only two more days of work before some much needed time off, I give you the Châtelaine. The original recipe calls for gin, but I don't have gin. I used vodka instead. I also had some pomegranate arils stored in the freezer, and I thought the frozen arils made a nice little garnish.
Cheers!
The Châtelaine
Slightly adapted from this recipe in Food and Wine. The recipe calls for a crisp white wine, and I think Sauvignon Blanc fits that bill quite nicely. I used POM Wonderful pomegranate juice.
Ingredients:
2 ounce Sauvignon Blanc
1 ounce vodka
1/2 ounce St. Germain elderflower liqueur
1 ounce pomegranate juice
pomegranate arils (i.e, seeds) for garnish
Directions:
In a cocktail shaker filled with ice, add Sauvignon Blanc, vodka, St. Germain, and pomegranate juice. Shake well. Strain the drink into a chilled martini glass, and garnish with 5 or 6 pomegranate arils.