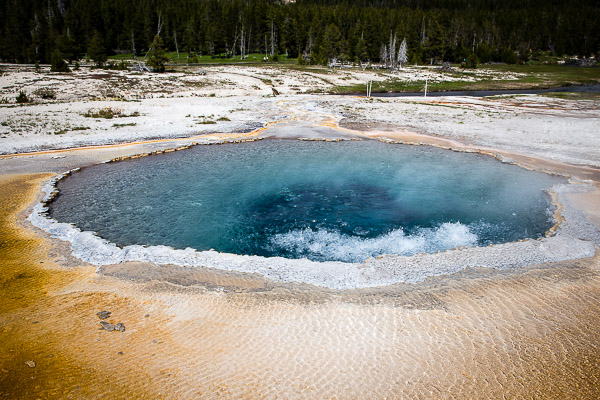 This is the second post (of a few) in which I'm sharing our itinerary for our recent trip out to Jackson Hole, Grand Teton National Park, and Yellowstone National Park. The first post is here, if you missed it. 
*   *   *   *   *
Day 4:Yellowstone National Park – South Entrance to Old Faithful
As much as we hated to leave the Grand Teton National Park, we knew that adventures awaited in Yellowstone. We also knew that we'd have a chance to revisit the Grand Tetons during the last two days of our trip, since we were spending the last two nights of the vacation back in Jackson. Those snowy peaks, despite the fact that we couldn't reach them (and oh, how we wanted to), had imprinted themselves on my heart.
After one last breakfast at the Pioneer Grill, and after one final view of the mountains through the hotel's large glass windows, we checked out of the Jackson Lake Lodge and headed north to the southern entrance of Yellowstone. The distance from the Jackson Lake Lodge to our hotel for the night, the Old Faithful Inn, was listed as 39 miles and should have taken us just over an hour. We took our time, however. We did not want to miss a single sight along the way, so it took us about three hours.
Soon after entering Yellowstone, as we entered higher elevations, we started encountering snow. The kids were thrilled to see snow, and especially snow that wasn't just in the distance on faraway mountain tops, but in piles and slicks on the nearby mountainside, just off the road. We pulled over at least twice so Maddie and Oliver could throw icy snowballs at each other and at their father. They kicked the snow and poked at it with sticks and squealed and giggled. They lamented that we live in Florida, where it never snows.